Throughout 2015 my printing workload consistently increased enough to justify adding to DiFi's fleet of 3D printers in preparation for the new year. Thus began my week long obsession with trying to find the perfect printer. NEWS FLASH: there is no perfect printer out there so don't make the same mistake I did, spending the bulk of your waking hours scouring Amazon reviews in your underpants looking for that one golden fabricator. So close your laptop, put on some pants, and just start by listing your top care-abouts when looking for a new printer. When looking to add a new machine to my fleet late last year, as long as it excelled in these five areas I'd be willing to deal with any of the printer's weaknesses:
Print Quality

Ease of Use

Reliability

Large Build Platform

Robust, Fully Enclosed Design
Enter the Afinia H800. The company Afinia 3D has been around since 2009 and they are the US affiliate for the Chinese manufacturer of UP brand desktop 3D printers, Tiertime. The H800 is also sold as the UP BOX through the UP brand. Afinia/UP have made a name for themselves in the desktop 3D printing industry as producers of some of the most user-friendly printers on the market and the H800 is their latest generation printer following their very successful H480 (UP Plus 2). Let's dive into the details of the H800, see how it stacks up against my five care-abouts, and see if we can discover any of its weaknesses.
What's new on the H800 vs H480
When looking at the technical details of the H800/UP BOX it's clear that Afinia/UP have attempted to produce a latest generation printer that combats many of the weaknesses associated with the H480/UP Plus 2. If you read product reviews about the H480 the general consensus is that, while it is a great, user-friendly printer that outputs high quality prints, it is lacking in the following areas:
At 5.5" x 5.5" x 5.3" the build platform is considered quite small compared to rival printers of a similar price point.

While the auto leveling and nozzle height detection capability on the H480 works great, it could be simplified to avoid the need to plug in additional components every time the user performs those operations.

Afinia targets the education market pretty hard and the H480, with its open frame design, isn't exactly the safest printer to operate due to the exposed heated elements as well as user exposure to fumes when printing in ABS.

With minimum layer height capability at 0.15mm, the H480 has fallen behind the FDM industry standard ability to print at 0.1mm layer height or less.
In stark contrast to these weaknesses, the H800/UP BOX boasts the following enhancements over the H480/Up Plus 2:
The build area is 5x larger at 10" x 8" x 8" which makes it one of the largest printers in the sub-$2000 price point.

The platform leveling and nozzle height detection are now fully automated with built-in components rather than detachable components.

The H800 has a few safety related upgrades. A fully enclosed design keeps curious hands away from the heated elements and the built in HEPA filter protects users against potentially harmful plastic fumes.

A minimum print resolution of 0.1mm
Furthermore, Afinia/UP have added a few other upgrades including several shortcut buttons on the side of the printer, a hidden filament spool compartment, as well as "mood lighting" that indicates the printer's status.
Print Quality & Material Choices
As a user of the older H480 model I'm used to seeing a certain level of quality out of my prints and the H800 doesn't disappoint in this arena. When printing at the same resolution the H800 outputs quality on par with the H480 but now having the ability to print at fine 0.1mm layer resolution gives the H800 an edge. However, my biggest fear when deciding to purchase this printer was the unknown around how it would handle warping issues on large ABS prints. I prefer printing in ABS for its finishing options and as many users know it can be tough to avoid some form of warping on large prints. After several weeks of printing I can say the H800's fully enclosed design and the use of the included perforated build platforms (a standard on Afinia/UP printers) helps this printer build large parts beautifully.
In my opinion, what sets Afinia/UP printers apart from the crowd is the type of support structures their included software automatically generates. After using Afinia/UP printers alongside an open source printer running Cura or Simplify3D software the quality and ease of removal of the generated support structures is like night and day. The H800 can handle unique, large parts with significant overhangs and come out very clean in comparison to other printer/software combinations.
When it comes to material choices there's good news and there's bad news. The bad news first: the H800 still only functions optimally with Afinia/UP proprietary filament, something many users dislike about this brand of printer. What's worse, the compartment on the side of the printer that fully houses the material spool has been reported to only house Afinia/UP's new, more expensive ABS Premium Plus line of filament which comes in 500 g spools at $35 per spool. However, the good news is I have had no problem fitting the standard 700 g spool. Furthermore, both companies are no longer offering the 700 g spool but are rather selling their standard ABS Premium filament in packages of 2x 500g spools at the same cost per gram as buyers have come to expect. Another positive is Afinia/UP seem to be continually adding material options to their line including aluminum-infused, copper-infused, and wood-infused PLAs. If users still can't swallow the added cost of these premium filaments there is always the option to buy the popular temperature switch manufactured and sold by Octave Systems. While an effective mod for reducing material costs and potentially opening up other material options be forewarned that you could run into warranty issues if Afinia/UP become aware of its use.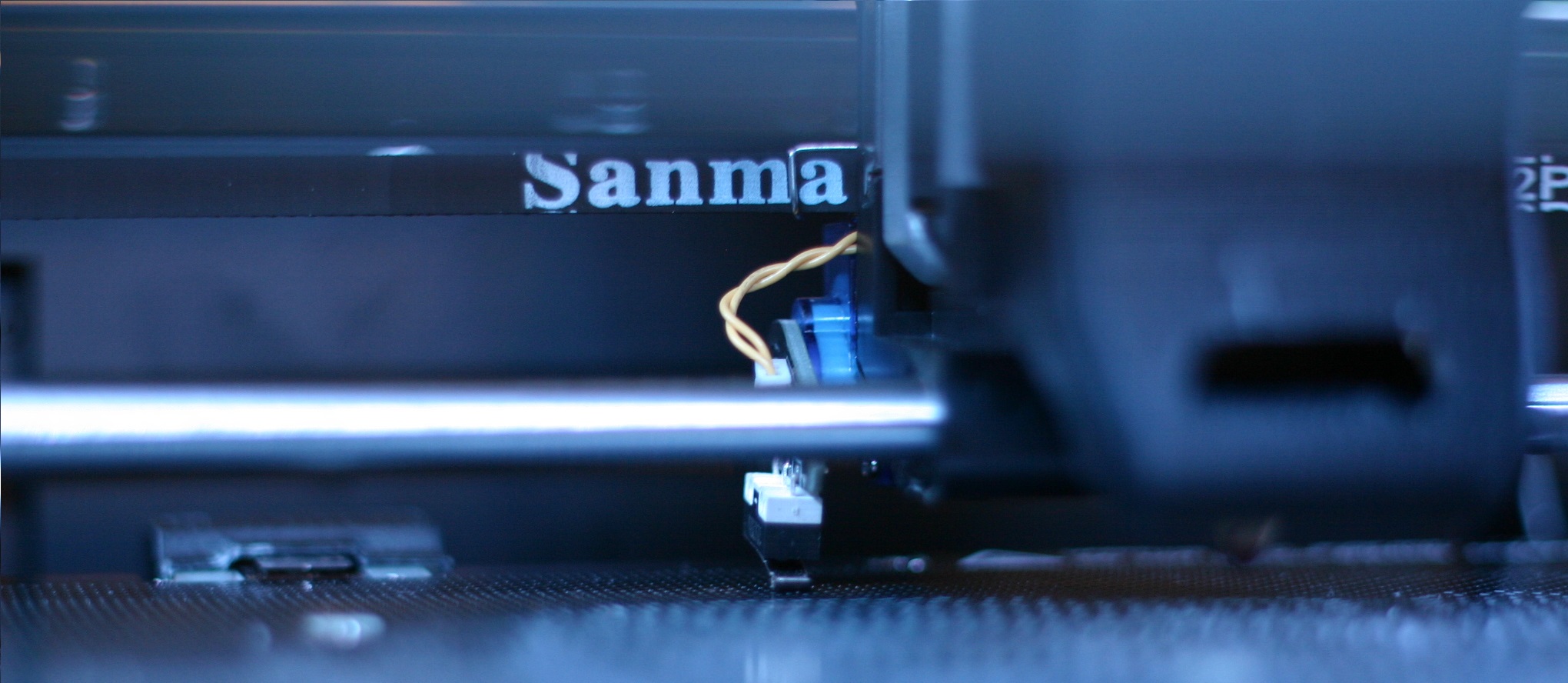 Ease of Use and Reliability
The upgraded auto bed leveling and nozzle height detection functionality built into the H800 makes initial setup of this printer a snap. Within 45 minutes of its arrival on my doorstep I had the printer unboxed, software loaded, and the first test print running. Running the auto bed leveling function is as simple as going to the "3D Print" drop down menu in the included software and choosing "Auto Level". A small servo with a mounted switch drops down and touches nine points on the build platform to automatically make minor adjustments within the software to compensate for any out-of-level areas. Once this is complete the machine automatically jumps into nozzle height detection by slowly touching the nozzle to a switch on the back of the build platform. Both of the these operations take about 3 minutes combined to complete. For my first print I chose to run the provided calibration file and followed the instructions to calibrate the printer in all directions. While I understand the giddiness of receiving a new printer and wanting to jump right into printing that T. rex head on Thingiverse that you've had your eye on, I absolutely recommend running the calibration print straight away. Especially if you intend to design and build functional prototypes or mating parts. As a testament to this exercise, after calibrating both my H480 and H800 I can print multiple parts in parallel on different machines and I have never had a fit relationship issue.
After initial setup of the printer subsequent prints follow this typical workflow:
Turn the printer on, initialize using the software or shortcut button on the side of the machine, and load the build platform.

Detect nozzle height. Honestly, when using the nozzle height detection function I've noticed it tends to set the nozzle too close to the build platform, leading to excessive dragging and potential clogging of the nozzle. I suspect this may differ slightly from printer to printer but I'd recommend keeping an eye on this at first. I now set my nozzle height manually using the typical paper resistance method. AS far as bed leveling goes I have yet to rerun the auto bed leveling function and have had zero issues. In my experience running it before each build is overkill but I plan to run the bed leveling function once a month to be safe.

Preheat the build platform to 90°. Do this and you'll consistently avoid warping on ABS prints. But the heating element on the H800 works a little slower than you may be used to. The preheat typically takes 15 - 20 minutes.

Load the part you intend to print and place it in its optimal orientation. Now go grab a snack and catch an episode of that new Netflix series you've heard is all the rage while you wait for your platform to preheat.

Choose your layer resolution, support structure settings, and infill settings and hit "Print".
So while setting up prints takes minimal physical work it simply takes time to allow the printer to come up to temperature. As with Afinia/UP's previous model printers, files can only be loaded onto the printer via USB so connectivity is limited versus most of its competitors. Though, if working from a laptop the printer can be disconnected and left to run off its onboard SD card once the print is initiated. The included software, as current owners of any Afinia/UP printer can attest to, is very simple to use and allows a certain level of flexibility in choosing different printing parameters, although not nearly as much control as open source software such as Cura. However, the benefit of Afinia/UP's proprietary software is users can rest assured that any combination of printing settings chosen will output a quality print.
After a few months of printing following this workflow the H800 has been very reliable. I have had a single issue with the printer itself where some of the bearings were overheating, causing misalignment of layers in the X direction half way through prints. While dealing with any printer problem is a headache, Afinia has built a reputation as having great customer service and they didn't disappoint. Their technical support hotline is incredibly helpful and efficient. I sent them my unit along with sample parts showing the issue at hand and they sent me a new replacement unit within a week. All of this was handled under the included one year warranty and all shipping charges were taken care of by Afinia. I have read on a few forums that this overheating bearing issue has occurred for a few other users but I suspect the issue has been resolved on later production units as I haven't had a problem after a month of almost daily printing with the new unit. But this brings up an important point: save the box and the included packing materials. It may be a bit of a pain to keep an intact 2ft x 2ft x 2ft box lying around but without it you could find yourself stuck in the event of an issue.
Build Platform and Machine Design
At 10" x 8" x 8" the build area on the H800 is 5x larger than its predecessor, which equates to a machine that is 5x heavier at 55 pounds with a footprint that is 4x larger. While this increase in size is to be expected it does look quite imposing on the desk next to an H480/UP Plus 2. One downside to the increased size of the build plate is it is a bit awkward to load the perf board onto the platform. It is held in place with 13 screws that fall into slots in the perf board to lock it in place. Since the perf board isn't perfectly flat you must take care when loading it into the machine to ensure every one of the screws is properly engaged. Just keep an eye on this to avoid leaving one of the corners disengaged and the platform way out of level. Despite this minor weakness, the substantial increase in build area of the H800 over the H480 is a big strength. But how does this platform size stack up to other prosumer level printers on the market? At $1899 the H800 is less expensive than the Lulzbot Taz 5 ($2200), the Ultimaker 2+ ($2499), and the Makerbot Replicator ($2899) but boasts one of the largest build platforms falling behind only the Lulzbot Taz 5.
With so much plastic built around this printer I feared it would feel flimsy. But this haus of a printer is rock solid with its metal internal frame, very sturdy build platform, and thick plastic shell. The front door is constructed from thick plastic and acrylic and feels very solid as well. The one thing I'm not wild about is the print head is held in place with three magnets rather than being hard mounted. While I'm sure this makes serviceability a breeze it does feel a bit cheap for a printer of this price point as this is the same configuration built into UP's entry level printer, the UP Mini.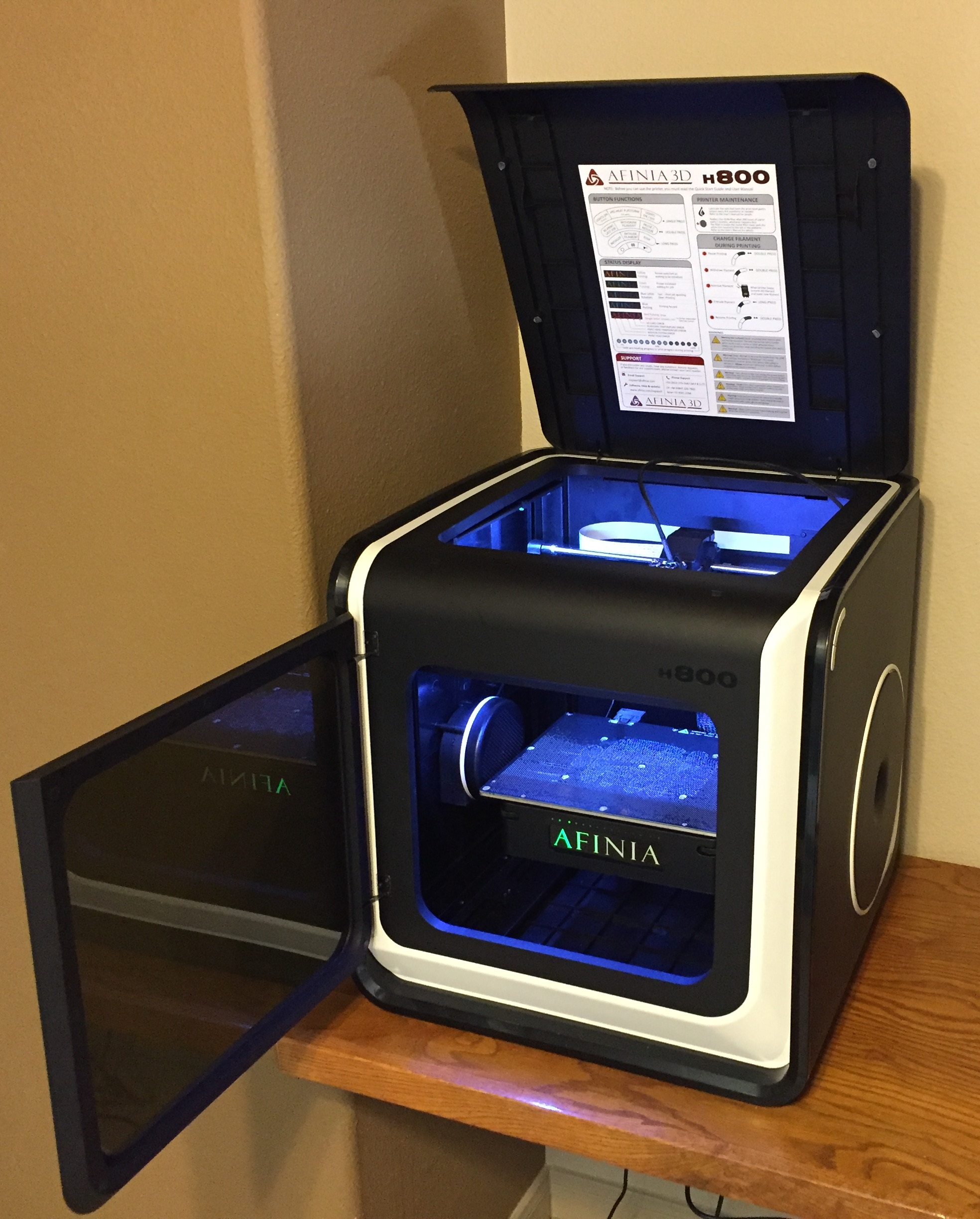 Some really nice design features have been built into the H800. The filament spool bay with its magnetic cover gives a nice , clean look and it is also incredibly simple to load and unload filament through the bay. Adding to the simplification of filament operations, among other operations, is the addition of shortcut buttons to the side of the H800. The user can perform nine different operations by pressing each of the three buttons with either a single press, a double press, or a long press and the handy quick reference guide comes mounted on the inside of the top hatch to help users recall the sequence of the different operations. Furthermore, the addition of a colorfully lit status display looks great and is useful in displaying the printer's status as well as print progress. Lastly, those who prefer printing with ABS plastic can rest assured that exposure to fumes will be kept at a minimum with the H800's onboard HEPA filter.
Conclusion
In a nutshell, the H800/UP BOX is essentially a blown-up H480/UP Plus 2 in a robust, well designed box. Users can expect print quality as good as or better than prints off the UP Plus 2 as well as many of its rival printers. While the H800 has its share of weaknesses I consider them pretty minor and far outweighed by its many strengths. Here is the breakdown:
Strengths:
Great Print Quality including super support structure generation

Handles large ABS prints with zero to little warping

Large 10" x 8" x 8" Build Platform

Easy to use machine and software

Robust, aesthetically pleasing design

Excellent Customer Support and industry leading One Year Warranty
Weaknesses:
Somewhat limited material options

Long platform pre-heating time

Limited Connectivity

Magnetically attached print head is not in line with the otherwise robust design

Awkward loading of the perforated build platform
While operating the H800 is truly an out-of-the-box experience, at $1899 it's hard to recommend this to first time 3D printer buyers or those just looking to print Star Wars toys for their kids (I've done the break even analysis on this and it would mean churning out several hundred Boba Fett action figures before you recouped your money). Furthermore, if you're looking for a printer capable of handling any material you throw at it you'd be better off taking a look at something like the Lulzbot Taz 5. The Afinia H800 is for the prosumer looking for an ABS or PLA workhorse that is capable of churning out high-quality print after high-quality print. As a professional user, the Afinia H800 has become my go-to printer and I won't hesitate to add a few more to my fleet when the time comes.